An Ultimate Catholic Tag compiled with questions from here and here, with a few added from ME!
UPDATED 1/23/2020
---
FIRST THINGS – SPIRITUAL LIFE:
What is your rite:  Latin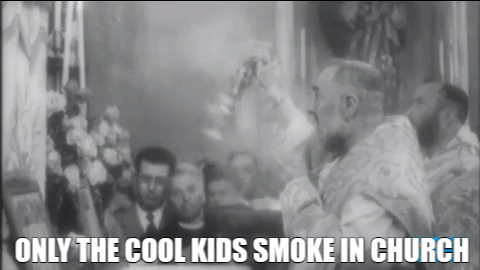 Cradle, Convert/revert: Cradle/revert
Year you were baptized: 1993
Year you received First Communion: 1999
Confirmation Saint: Didn't have one 😦 I was Confirmed in Canada; apparently they didn't do that sort of thing ?
Name of Current Parish: St. Paul the Apostle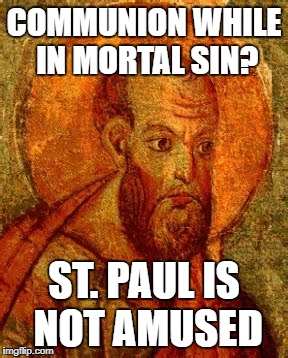 Parish groups you belong to: None atm – working on a Pro Life one though.
Prayer you say everyday: The Rosary, Guardian Angel Prayer, Ven. Fulton Sheen's spiritual adoption of unborn child prayer, the Memorare, 3 Hail Marys for Purity.
Religious item you travel with: Holy Water, Prayer book, Combat Rosary.
Do you go to adoration: Once a week – when I remember… ahem.
Last time you went to confession: Monday!
Color of your favorite rosary: Dark grey / metallic. THIS ONE.
Convert that helped your faith: Gabriel Castillo – his youtube videos woke me up
Cradle Catholic that helped your faith: Michael Voris – ChurchMilitant.com keeps me woke 😉
 Taylor Marshall is also one of my favorites! I mean come on! He's wicked cool.
Weirdest thing about being Catholic: That I was chosen out of so many others to be so blessed. And that I am able to literally Eat. God. To consume Him, body, blood, soul and Divinity. As st. Catherine of Siena once put it, being "closer than water is to a fish."
Best thing about being Catholic: Its home
Your Patron Saint(s): Ste. Thérèse de Lisieux, St. Jacinta Marto, St. Frances de Sales, Yvonne-Aimee, & St. Thomas Aquinas.
FAVORITES:
Favorite Saint: I'm going to go out on a limb and not think about it too much – SAINT PAUL the APOSTLE
Favorite Parable: The lost sheep (Matthew 18:12–14)
Favorite Psalm: 41, 7, 8, ugh so many of them.
Favorite Religious Order: the FSSP, ICKSP, Sisters of Life, Sisters Adorers of the Royal Heart of Jesus Christ Sovereign Priest,
Favorite Catholic Singer/Band: The Thirsting
Favorite Spiritual Author: St. Teresa of Avila, St. Thomas Aquinas, St. Thérèse de Lisieux, St. Gemma Galgani, St. Frances de Sales, too many to count… Scott Hahn, Carrie Gress, Alice von Hildebrand, Thomas a Kempis, St. Louis de Montfort, Fr. Thomas-de-saint-Laurent, Cdl. Robert Sarah, Anthony J. Paone, Garrigou Lagrange, Carlo Giuseppe Quadrupani, Joan Carroll Cruz,
Favorite Prayer: The Holy Rosary, the Memorare, the Fatima Prayer.
Favorite Marian Devotion: The Rosary!
Favorite Pope: St Pius X, Pius XII, Leo XIII,
Favorite Biblical Character: The Centurion (Matthew 8;5-10)
Favorite Catholic Movie: The Reluctant Saint, Popiełuszko , 
Favorite Catholic Song: Litany of Humility by Danielle Rose
Favorite Encyclical: "Casti Conuubi (On Christian Marriage)" – Pius XI,  "Humanum Genus(on Freemasonry) – Leo XII, "Divini Redemptoris (On Atheistic Communism)" – Pius XI, "Octobri Mense (On the Rosary)" – Pope Leo XIII,
Favorite Marian Hymns:
"Czarna Madonna"
"The Annunciation" by the Dominican Sisters of Mary, Mother of the Eucharist,
Caccini's "Ave Maria",
"Ave Maria No Morro" by Ks. Robert Żwirek,
Sergei Rachmaninovs "Ave Maria",
"As I Kneel Before You",
Antonio Lotti's "Regina Caeli", 
Favorite Book written by a Saint: Introduction to the Devout Life,
Favorite Catholic Meme: everything "Ecclesia Dei Strikes Back" comes out with.
Favorite liturgical season: Easter season!
Favorite Feast day: Christmas & Immaculate Conception
Favorite part of Mass: Holy Communion of course
Favorite Sacred Hymn: Aside from all my favorite Marian hymns…  Doyle's"Non Nobis Domine",
and this "Caro Mea" which doesn't seem to be online anywhere. Somebody please sing this and put it on youtube and send it to me!
Favorite Gospel: Luke
Favorite Martyr: Fr. Jerzy Popiełuszko, Fr. Miguel Pro, St. Maximillian Kolbe…
Favorite (approved) title of Our Lady: Queen of Heaven, Star of the Sea, Exterminatrix of Heresies, Our Lady of Good Success,
Favorite Devotion: Marian of course!
Favorite Bible Translation: Douay Rheims.
THIS OR THAT:
Extraordinary Form OR Ordinary Form: Silly question, Extraordinary Form
Religious Life OR Married Life: I think Married life
Society of Saint Peter and Paul (FSSP) OR Institute of Christ the King Sovereign Priest (ICKSP): AHH! I love them both! But I have to say ICKSP because my brother is there..
Homeschooling OR Catholic School: Homeschooling all the way
G.K. Chesterton OR C.S. Lewis: Yikes! Well, I haven't read enough of either of their non-fiction work to give  you a truly honest and calculated answer 😉
Saint Paul OR Saint Peter: St. Paul
St. Thomas Aquinas OR St. Augustine: St. Thomas Aquinas!
---
 Now tag 3 or more people.
If you are tagged you must fill in your own answers on your own blog, or youtube channel if you have one.
If you do not do this you must offer 3 Hail Mary's for the person who tagged you. 
I'm tagging Tasha over at Radical Mothering
and Front Porch Catholic!!
---
 Check out these other great bloggers who also participated in this tag!
Working by Candlelight / Frugally Fancy Farm Lass